Gulmarg | Manali | Narkanda | Kufri | Rohtang | Auli
Skiing, one of the most popular winter sports of the world has come a long way in India. Brought to the country, by Europeans, the sport of skiing did not take long to become a most favorite winter sport of thousands of people who feel the passion for adventure and escapade. In fact, the most compelling reason behind its massive popularity is the exquisite hills of the country that encompass all the required ingredients of adventure stuffed with enthusiasm and thrills of myriad of undiscovered valleys, lofty peaks, glaciers and snow-capped mountains.
Gulmarg
Gulmarg proudly wears the crown of being of one of the most thrilling premier upland hill resorts of Kashmir that promises an ultimate experience of skiing. Situated at the altitude of 2, 730m, this popular tourist destination brings to its visitors extensively large and best equipped winter sports opportunities. The beautiful slopes of Gulmarg heavily coated with seasonal snow presents an ideal place for skiing during the winter season.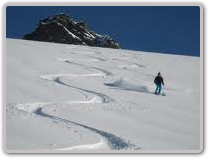 What attracts a heavy number of visitors to this skiing paradise every year is its easy accessibility. Be it rail, road or air, one can reach this place by any means of transport. Gulmarg is located at a minimal distance of 56kms from Srinagar. Several flights operate to and from Srinagar. However, those who wish to explore every facet of nature can also try the road trip. Gulmarg has good network of road and provides convenient bus facility from all nearby major cities. Trains also operate till Srinagar, from where the remaining distance can be covered through jeep, taxis and buses.
DIVERSIONS :
For a change, you can enjoy a pony ride on any of the trails that lead out from this saucer-shaped valley. Or if you opt for a day out trekking, there are a number of picnic spots to choose from—all within a few kms. radius : Alpather lake and Ningal Nullah. (Basically for cross-country skiers). At the end of a fun-filled, thrill-packed day skiers can stretch out before a log fire in a variety of accommodation.
HOW TO REACH :
By Air :
Srinagar is linked by Air to Delhi, Amritsar, Jammu, Chandigarh, Leh, Ahmedabad and Bombay
By Road :
Srinagar is connected to Jammu and other neighbouring areas by road. In winter, the buses operate upto Tangmarg (8 kms. from Gulmarg) the remaining distance being covered by Jeep.
By Rail :
Gulmarg is not directly approachable by Rail. Jammu Tawi is the nearest Railway Station, connected by train to all parts of the country.
WHERE TO STAY :
Gulmarg has ample accommodation for tourists in a broad tariff range, for hotels, you have a wide choice—from the luxurious Highland Park to the economical Yumberzul. Besides, there is other accommodation available Insulated Huts managed by J&K Department of Tourism vary between 1 bedroom to 4 bedrooms. New Tourist Bungalow run by J&K Tourism Development Corporation has over two dozen rooms.
WHAT ABOUT FOOD :
One can choose from Indian, Continental, Chinese and Kashmir! cuisine at most of the hotel restaurants. There are bars at the Government club and in some hotels.
Manali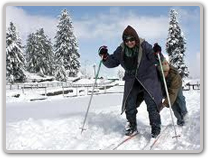 Manali's legendary exquisiteness, prime location and splendid skiing opportunities attract hundreds and hundreds of visitors ever year. The city is pleasantly located at the height of 6000ft to 7000ft and presents magnificent ski inclines at Sola Nala for all those, who love to cast their way by sliding through the snow. Accommodation is not at all an issue with Manali. Studded with beautiful hotels and resorts, Manali presents a wide array of lodging arrangements to fit every budget.
Manali can be easily reached by air, rail and road:
By Air :
Bhuntar is the closest airport that is located at very short distance of 50 Kms from Manali.
By Rail :
The closest railhead from Manali is Joginnder Nagar at a distance of 125 kms.
By Road :
Manali is well connected with all the major parts of the country through a good network of roads. Frequent bus services can be availed from all major cities such as New Delhi, Chandigarh, Meerut and etc.
WHERE TO STAY :
Hotels, Tourist Bungalows and Guest Houses are available in Manali, on rent, all through the year. Log Huts an exquisitely different experience-ethnic yet very comfortable. Between the Ashok Travellers Lodge and Piccadily Holiday Resort, you can choose from a good range of comfort and economy.
Narkanda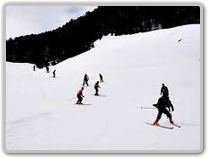 Located in the pleasing ambience of Himachal, Narkanda is a very calm town. In winters, this place gets heavily coated with thick, soft snow and presents a range of enticing slopes for the adventure of skiing. Nestled in the odorous pine forest is located the magnificent ski resort at 2,700m. The skiing season stretches here from the end of December to the beginning of the early March. From learners to pro, every skiing lover can have his/her own choice slopes ranging from a learner's slope to the sharper descents for the practiced skier.
In order to reach Narkanda, interested travelers can avail bus or private taxi service from Shimla, which is located at a distance of 64 Kms.
HOW TO REACH :
Approachable from Shimla 64 kms.by buses or taxis.
WHERE TO STAY :
Hotel Himview is recommended for a comfortable stay.
Kufri
The exotic ski locations of Kufri have left no stone unturned in boosting up the spirit of adventure of ever ski lover. Irrespective of the difficulties that mountainous region offers in the construction of roads, Kufri has managed to build and maintain good network of roads. It is well connected with Simla and travelers often pick to try their hand at trekking while making their way from Shimla to Kufri. Many hotels and holiday homes are available in Kufri and hence, staying in this exotic location is not at a problem.
HOW TO REACH :
Kufri is connected to Shimla by road. To fully savour the scenic views between Shimla and Kufri nothing could be better than trekking the 16 kms, way.
WHERE TO STAY :
Hotels and Holiday Homes are available on in Kufri. Especially worth mentioning is Wild flower Hall. Once a royal residence, this beautiful old mansion surrounded by pine forests is now a hotel. A well stocked bar is available here. Kufri Resort Hotel also offers a comfortable stay with a choice of cuisines and a bar.
Rohtang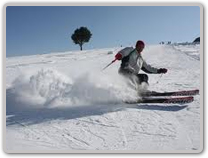 With a commanding height of 3978 meters and accessible distance from Mannali, Rohtang has become the new most popular skiing destination in the country. The recently developed Ski terrain of this land has produced a number challenging opportunities for many ski freaks. And what makes Rohtang a truly unique skiing destination for all its ski lovers is the availability to indulge in skiing throughout the winter and autumn season.
Reaching Rohtang is child's play. Although many frequent road services are available to Rohtang, travelers often choose to trek to this destination from the city of Manali, which is located at very small distance of 51 Kms.
HOW TO REACH :
Frequent road service is available from Shimla and Manali though ' many enthusiasts prefer to trek to Rohtang from the latter.
WHERE TO STAY :
Tourists would be advised to plan their base camp either in Manali or Keylong. Skiers can also be taken to the slopes of Rohtang.
Auli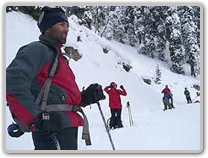 Auli is one of the most recently developed Skiing locations in the country. The town provides good skiing opportunities from the end of December to the beginning of March. Geographically, Auli is located at a small distance of 16 kms from Joshimath and is considered as an ideal winter resort by many avid skiers who have explored its charm and slopes. Reaching Rohtang is child's play. Although many frequent road services are available to Rohtang, travelers often choose to trek to this destination from the city of Manali, which is located at very small distance of 51 Kms.
HOW TO REACH :
By Air : The nearest airport is Jolly Grant Airport (Dehradun) which is almost 273 kms away from Joshimath. Travelers can also avail vayudoot services that operate between Delhi and Dehradun.
By Rail : From any part of the country, the closest railhead is Haridwar, which is 299 Kms from Auli.
By Road : State transport vehicles have made it very convenient to reach Auli with the provision of frequent bus service.
WHERE TO STAY :
The Garhwal Mandal Vikas Nigam's Rest Houses at Dehradun, Rishikesh. Auli and Joshimath offer a comfortable stay while being economical. They run throughout the year. A Youth Hostel also rents boarding and lodging.