16 Nights / 17 Days
Delhi – Mandawa – Bikaner - Jaisalmer – Jodhpur – Udaipur – Pushkar – Jaipur – Ranthambhor - Agra – Delhi
Day 01: Delhi
On arrival at Delhi International airport, you will be welcomed by our representative that will transfer you to the hotel rooms for relaxing and overnight stay.
Day 02: Delhi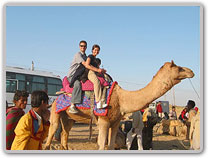 In the morning we take you to the famous sightseeing of Old and New Delhi. The popular sights of Old Delhi include majestic Red Fort, Chandni Chowk and if left with time we take you to Raj Ghat, Mahatma Gandhi Memoir. In the afternoon we take you to popular places of New Delhi like Rashtrapati Bhawan, India Gate, Laxmi Narayan Temple, Qutab Minar and Lotus Temple.
Day 03: Delhi – Mandawa (275 kms - 5 hrs)
In the morning after checking out from the hotel you will be drive to Mandawa, a distance of 275km and a drive of 5 hours from Delhi. On reaching Mandawa you be traditionally welcomes and taken to Castle Mandawa Hotel. Later in the day we will take you to the exciting town of Shekhavati region full of Forts and Havelis. In the evening you can enjoy folk dance and music and spend the night at hotel room.
Day 04: Mandawa – Bikaner (175 kms- 3 hours)
In the morning after checking out we drive you to Nawalgarh, a 30km drive from Mandawa, where you can observe finest Shekhavati's frescoes. Havelis of this region showcases the rich and prosperous Marwari era of the 19th century. Some of the exciting and worth visiting places of this region include Aath Haveli complexes, Anandilal Poddar Haveli, Bansidhar Bhagat Haveli and Chokhani Haveli. Later in the day we drive you to Bikaner, a distance of 175km taking 3hours time. Evening tourists are free to relax and spend the night in the hotel room.
Day 05: Bikaner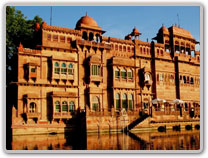 In the morning we take you to Bikaner sightseeing covering majestic fort and palaces of Bikaner like Junagadh Fort, Bhand Sagar Temple, Camel Breeding Farm, Deshnok Temple, and Karni Mata Temple. The sunset is really to be enjoyed over the dunes and then drive back to Bikaner for overnight stay.
Day 06: Bikaner – Gajner - Jaisalmer (333 kms – 6 hours)
In the morning after checking out we drive you to Jaisalmer through an off beat route of Gajner. Gajner is full of lake and palaces and this place is surrounded by Gajner Wild life Sanctuary. After exploring Gajner we further take you to Jaisalmer. In afternoon you are free to relax or enjoy the city. In the evening we take you to Gadisar Lake and night relax in hotel room.
Day 07: Jaisalmer
In the morning we take you to the Jaisalmer sightseeing tour in which you can experience Jaisalmer Fort, built on the Tricuta Hill highest point and consists of 99 bastions. Other interesting sightseeing places of Jaisalmer include Salim Singh-Ki-Haveli and Patwon-Ki-Haveli, which are extremely beautiful mansions having awesome intricacy. For the rest of the day you are free to relax and in the evening we drive you to Sam Sand Dunes. This is 45km from Jaisalmer and on the way visit ancient temple of Lodurwa, Amar Sagar and Mool Sagar Lakes. After reaching Sam Sand Dunes enjoy Camel rides on the dunes till sunset. One can either opt to stay on the luxury camps on dunes or return to Jaisalmer for the overnight stay.
Day 08: Jaisalmer - Jodhpur (285 kms – 6 hours)
In the morning after checking it out from the hotel we drive you to Jodhpur. On visiting Jodhpur relax till late afternoon in the hotel and later in the evening we take you to explore various fort and palaces of Jodhpur like Mehrangarh Fort, Jaswant Thada and Umaid Bhawan Palace. Then we take you to Balsamand Lake and Palace and spend night in the hotel.
Day 09: Jodhpur – Ranakpur - Kumbhalgarh - Udaipur (276 kms – 5 hours)
In the morning we drive you to Udaipur and on the way to Udaipur you can visit 12th century Ranakpur Temples, which stand on 1444 carved pillars and each pillar is carved differently. After Ranakpur you are moved to Kumbhalgarh Fort, which is known for its longest wall of 36 km surrounding the fort having 360 inbuilt temples in the wall. Later you are moved to Udaipur to relax in a hotel and spend the night.
Day 10: Udaipur
In the morning we take you to City Palace located amidst Lake Pichola, which comprises of Crystal Gallery, Durbar Hall and Jagdish Temple. Other exciting places covered in Udaipur include Sahelion Ki Bari, Eklingji & Nagda Temples, which is 22km from Udaipur. In the night we drive you back to Udaipur for overnight stay.
Day 11: Udaipur – Pushkar (275 kms – 5 hours)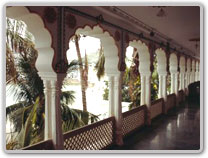 In the morning we drive you to Pushkar that is 275km from Udaipur and the drive is of 5 hours. There you can rest for sometime in a hotel and then visit to Pushkar Lake, which has been a pilgrimage place through centuries. The only temple of Lord Krishna is another attraction of Pushkar. We also take interested tourists to Ajmer to see Adhai Din ka Jhopda, Taragarh Fort and Shrine of Khwaja Moinuddin Chisti. Relax in the evening and stay overnight at Pushkar hotel.
Day 12: Pushkar – Jaipur (131 kms – hours)
In the morning one can go the lakeside to see devotees offering prayer to Sun God during sunrise and later on we drive you to Jaipur, which is 131km from Pushkar. Rest in the hotel room and then visit Sanganer, a small village found at 16km south of Jaipur. This place is popular for hand made paper and block printing. Stay at hotel in Jaipur to spend the night.
Day 13: Jaipur
In the morning drive to Amber Fort to enjoy Elephant ride while exploring the fort later on we take you to the Jaipur sightseeing in which we cover City Palace Complex, Hawa Mahal, and Jantar Mantar. For the rest of the day you are free to explore the carpet, jewelry and gems market of Jaipur. In the evening visit Chokhi Dhani if interested in Rajasthani cuisine, live music and puppet shows, as you can enjoy all these in Chokhi Dhani. Spend night in the hotel.
Day 14: Jaipur – Ranthambhor (180 kms – 3 to 4 hours)
In the morning we drive you to Ranthambhor and transfer you to a Jungle Resort. In the day you are free to relax and take Game Drive by jungle safari van. In the evening you are free to relax and spend the night in the Jungle Resort.
Day 15: Ranthambhor
In the morning we take you on Jungle Safari to the National park and in day we make you visit Ranthambhor Fort after exploring the National Park and ancient temple of Lord Ganesha. In the evening we take you on optional Jungle Safari and spend overnight in Ranthambhor.
Day 16: Ranthambhor – Agra (280 kms – 6 hours)
In the morning we take you to the National Park where once again you can get involved in Game Drive if interested. Later in the day we drive you to Agra and on the way we let you explore the old dynasty of Mughal, Fatehpur & Sikri, Buland Darwaza and Shrine of Shaikh Salim Chisti. After reaching Agra rest in a hotel and in the evening we take you to the visit of Taj Mahal to see it over the sunset and stay in the night in hotel.
Day 17: Agra – Delhi (200 kms – 4 hours) - back home.
Give a visit to Taj Mahal early in the morning to have a glimpse of Taj Mahal over the sunrise and later in the day you can visit Agra Fort, Itimad-ud-Daulah Tomb and Moti Masjid. After visiting these places drive back to Delhi and you will be transfer to International airport to board the flight back home.
We at tour India offer comprehensive travel solutions by giving meaningful reasons for exploring any particular state of India. We strive to bring quality service at your doorstep at pocket-friendly rates by always standing aloft at your expectations. Although, each state in India signifies historical importance through its palaces and forts, yet Rajasthan forts and palaces have such a magical presence which can surpass splendor of any other fort in front of them.
Planning tour to Jaipur or Rajasthan is a worthy idea, especially if you are planning to explore the grandeur of these places by watching the majestic Jodhpur or Bikaner forts. We are well-acquainted with the major attractions of each place, therefore we identify one can travel to Jodhpur, Jaisalmer or Jaipur for having a glimpse of rich tradition and culture of Rajasthan via its magnificent forts which are built over tops, either in the interiors of the deserts or inside the jungles. By availing our tour packages, one can rove around these Forts:
Travel to Jodhpur in Rajasthan for viewing the imposing structure of Mehrangarh Fort, one of the largest forts in India which perfectly epitomize the splendor of a bygone era.
Chittaurgarh Fort, who echoes the tales of romance and bravery of the Rajput rulers who laid down their lives while fighting with the enemies, is a worth visiting place because of its ideal location and colorful history.
Travel to Jaisalmer, the golden city, for observing the beauty of the Jaisalmer Fort which was built in 1156 A.D by Rawal Jaisal.
For gaining an experience which is truly royal, then must pay a visit to Amber and Jaigarh fort of Rajasthan.
It is worth travelling to Jaisalmer for viewing the real exquisiteness of Golden Fort or Sonar kila which is made up of yellow sandstone and ignites into a golden flame when blessed by the sun rays.
Apart firm these forts; Taragarh Fort, Junagarh Fort of Bikaner, Rajwada Fort, etc. are other forts which one cannot afford to miss while travelling to Rajasthan.
It is worth mentioning here, in order to have an extensive looks of Rajasthan within the time span of 7-8 days, then Palace on Wheel, a luxury train is waiting for you. One can travel to Jaipur, Jodhpur, Jaisalmer, Ranthambore National Park, Chittorgarh, and many other places in the elegant interiors of fully air-conditioned restaurants, lounges, 14 deluxe saloons, etc on the Royal Palace on Wheels of Rajasthan.
Indeed, it can be said that our Rajasthan and Jaipur tours have so much to offer to its tourists that even a tour of 15 or 17 days seems like floating away like a second from their hand. Therefore, it can be concluded that these forts should be visited if you really want to explore the entirety of Rajasthan.
◆ Number of days for touring in India.
◆ Number of people travelling.