12 Nights / 13 Days
Delhi – Agra – Jaipur – Jodhpur – Jaisalmer – Manvaar – Deogarh - Udaipur – Delhi
Day 01: Home – Delhi
After reaching the Delhi International Airport you will be assisted and guided by our representatives that will safely transfer you to the hotel for relaxing and night stay.
Day 02: Delhi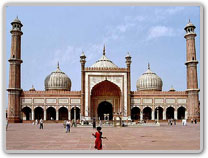 In the morning we will take you to Delhi sightseeing covering all the major attractions of Old and New Delhi. The places of interest in Old Delhi covered by us include Chandni Chowk, Red Fort, and Raj Ghat the Memoir of Mahatma Gandhi. In New Delhi we take you to visit India Gate, which is a memorial built in the honour of martyred Indian soldiers, Laxmi Narayan Temple built by India's leading industrialist family Birla's, Rashtrapati Bhawan residence of the president of India which was earlier the residence of British Viceroys, Qutab Minar built by Qutub-ud-din Aibek and Lotus Temple. In the evening you are left to relax and spend night at hotel.
Day 03: Delhi – Agra (200 kms - 4 hours)
In the morning we drive you to Agra, which is 200km from Delhi and on the way we take you to visit Akbar Tomb at Sikandra and after reaching Agra you are transfer to the hotel. After relaxing for some time we take you on Agra sightseeing covering Itimad-ud-Daulah Tomb, Agra Fort and Taj Mahal, where you can spend some relaxing moment to experience one of the wonders of the world. In the evening we take you to visit Inlay Handicraft Market of Agra and night stay at the hotel.
Day 04: Agra – Jaipur (230 kms – 3 hours)
In the morning we drive you to Jaipur, which is 230km from Agra and is a drive of 3 hours. On the way we take you to Fatehpur Sikri, an ancient town of Mughal Dynasty and also other interesting places such as Panch Mahal, Buland Darwaza, and shrine of Shaikh Salim Chisti. After this we drive you to Jaipur where you are transfer to hotel for relaxing and overnight stay. In the evening we take you to Galta Temple popularly known as Valleys of Monkeys and also to Sisodia Gardens. Lovers of traditional food can pay a visit to Chokhi Dhani Resort.
Day 05: Jaipur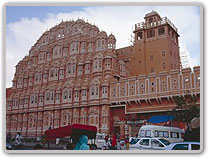 In morning we take you to Amber Fort, where one can explore the majestic fort while riding on elephant. Apart from this we also take you to other attractions of Jaipur like City Palace, Hawa Mahal, which was built for ladies to watch the processions, and Royal Observatory. In he evening one can visit gems, handicraft or textile market of Jaipur.
Day 06: Jaipur – Jodhpur (330 kms - 6 hrs)
In the morning we drive you to Jodhpur, which is 330km from Jaipur and on the way we take you to Lord Brahma Temple situated on the bank of Pushkar Lake. This lake is surrounded by Ghats where several devotees can be seen praying and taking dip in the holy water of Pushkar. After this we take you to Jodhpur and move you in a hotel for relaxing and overnight stay.
Day 07: Jodhpur – Jaisalmer (290 kms - 6 hrs)
During morning we take you on Jodhpur sightseeing in which you visit Umaid Bhawan Palace Museum, Mehrangarh Fort, and Jaswant Thada, which is a mausoleums of the Rajput Warrior. In the afternoon we drive you to Jaisalmer, which is 290km from Jodhpur and shift you to hotel in Jaisalmer for relaxing and overnight stay.
Day 08: Jaisalmer
In morning we take you on Jaisalmer sightseeing in which we cover Jaisalmer Fort, which is a major attraction of Jaisalmer built on the highest point o Tricuta Hill. Highlighting feature of this place is Salim Singh-ki-Haveli and Patwon-ki-Haveli, Megh Durbar and numerous other temples. There are also some extraordinary mansions with stone carving. In morning we drive you to Sam sand dunes, which is 45km from Jaisalmer. On the way one can visit Amar Sagar, Mool Sagar Lakes, and the ancient temple of Lodurwa. In Sam Sand Dunes one can enjoy camel rides till sunset and we drive you back to Jaisalmer for the overnight stay.
Day 09: Jaisalmer – Manvaar (180 kms - 3 hrs)
In morning we drive you to Manvaar, which is a town under Shergarh region of Thar Desert at a distance of 180km from Jaisalmer. Highest sand dunes are found at this place and on arrival to Manvaar we drive you by Jeep to the Manvaar camp sites, which is in between the dunes. Here you are provided with Swiss Tents for refreshing, which is equipped with all the latest facilities. After refreshing you can enjoy camel safari till evening and can ride back to camp site. We will also provide you opportunity of folk music and dance under the sky along with the theme based dinner. You will spend the night in the Swiss Tents.
Day 10: Manvaar – Deogarh (210 kms - 4 hrs)
In morning we drive you to Deogarh, which is 210km from Manvaar. On reaching to Deogarh we move you either to Deogarh Palace Hotel or to Rawla Jojawar. This is an outstanding structure of 17th century standing on the top of a hill, which offers a panoramic view of the Aravalli mountain range and of numerous lakes spread throughout the countryside. Relax for some time and take a ride of toy train to visit Deogarh nearby villages and Dashavtar and Manstambha Temple. Explore the nearby villages of Deogarh in the evening and spend the night at the hotel.
Day 11: Deogarh - Ranakpur - Udaipur (200 kms – 4 hours)
We drive you to Udaipur in the morning and on the way we take you to 12th century Ranakpur Temples that stands on 1444 carved pillars and each of the pillars is differently carved. Later we take you to Udaipur and transfer you to hotel for relaxing in the evening and night.
Day 12: Udaipur
During morning we take you on Udaipur sightseeing. Important places covered by us include City Lake Palace Complex, Jagdish Temple, Durbar Hall, Palace Museum and Crystal Gallery all these places are within the vicinity of City Palace. Have lunch at Garden Restaurant near City Palace Complex and later in the day we take you to Sajjangarh Fort, Lok Kala Mandal, Shilpgram, and Sahelion Ki Baari.
Day 13: Udaipur – Delhi (By air at 1500 hrs / arr at 1630 hrs)
In the morning you are free to enjoy in Udaipur either by strolling at lake side or by visiting the Udaipur markets. In afternoon we transfer you to airport to board Delhi flight and after reaching Delhi you are free to involve in individual activities and later we move you to International airport to board the home flight.
Classical Rajasthan Tour is an experience gained after the blissful journey of historical cities of Rajasthan such as Jodhpur, Udaipur, Jaipur, Jaisalmer, and Manvaar etc. These historic cities are known for numerous rugged forts, majestic palaces, and vibrant people, which form an intricate tapestry of mysticism, rusticity and grandeur. We, Tour India, take immense pleasure to take you on the classical tour of Rajasthan that helps you to unfold many wonderful fort and palaces of this magical land. Our classical Rajasthan travel and tour packages has been carefully planned and designed so that tourists can relive and experience the true magic of this awesome fort and palaces. Special care is taken by us to include every place of interest of Rajasthan so that the tourists can simply have the magical experience of the fort and palaces of this largest state of India.
Rajasthan Tourism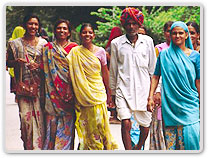 Immense opportunity is generated in the Rajasthan Tourism Industry due to the heavy flow of tourists who come to explore the various historical forts and palaces representing the rich tradition and heritage of Rajasthan. Tourists find immense pleasure in their travel to Rajasthan as they happen to experience some awesome forts and palaces built at different historical cities of Rajasthan. Rajasthan tourism very much revolves around magnificent forts and palaces built across different cities of Rajasthan that hold optimum interest of the tourists travelling to Rajasthan. Rajasthan Tourism Industry has grown leap and bounds with Rajasthan being a prime tour and travel destination of India.
Eminent Tourist Places Covered under Classical Rajasthan Tour
Udaipur - Udaipur famous as a lake city is also known as the Venice of the east. One of the major attractions of Udaipur is the Lake Palace built on Jag Niwas island in the center of Pichola Lakes is the rarest example of architectural and cultural explosion. This city is known for its fairytale palaces nested along the banks of a lake. Udaipur is an ideal place for the tourist on Classical Rajasthan holidays.
Jodhpur - This imperial city of Rajasthan is set at the edge of the Thar Desert that echoes tales of olden days in the emptiness of the desert. This city boasts of the massive Mehrangarh Fort that emerges on the top of a rocky hill. Inside this fort there are several palaces built by the successive rulers. Umaid Bhawan Palace is another attraction of Jodhpur that is visited by tourist in their travel to Jodhpur. Apart from these two exciting cities of Rajasthan we also cover the following cities in our classical Rajasthan tour:
Jaipur -Renowned for its marvellous architecture and town planning, this city represents the lively spirit of the people inhabiting it. In our Jaipur travel and tour we provide a unique fusion of culture that has to be experienced and appreciated. Amber Fort, Hawa Mahal, Jantar Mantar, Mahargarh Fort are some architectural beauty of the pink city of Jaipur that is a must to be visited by the tourist in their travel to Rajasthan. Our Jaipur tour with a difference is making a great contribution in the prospering of the Jaipur Tourism Industry.
Jaisalmer - Jaisalmer, The Golden City the heart of the Great Indian Desert. Various fort, palaces, temple, are all made from yellow stone. Jaisalmer Fort is the oldest living fort and the tourist major highlight of Jaisalmer. Other places of interest in Jaisalmer are Patwon-Ki-Havelies and Salim-Singh-Ki-Haweli.
Our Classical Rajasthan tour is a thirteen days tour, which start from Delhi and covers various historical cities of Rajasthan and its neighbouring states. In our thirteen days classical Rajasthan tour you will see the most exotic locations of Rajasthan & will be able to experience full of Rajasthan in thirteen days itinerary:
◆ Number of days for touring in India.
◆ Number of people travelling.