19 Nights / 20 Days
Delhi - Shimla - Sarahan - Kafnoo - Upper Mulling - Kara - Base Bhaba - Bada Baldar - Mud - Sangam - Kaza - Keylong - Manali - Nalagarh - Delhi
Day 01: Delhi
Welcome to the Delhi Airport and make yourself comfortable in one of the most lavish hotels of Delhi. Spend your night in the luxurious comfort and prepare yourself for an entirely thrilling experience of Himalaya trekking.
Day 02: Delhi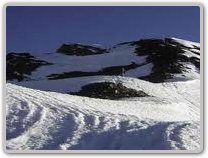 Post your sumptuous breakfast; begin your day with a planned sightseeing outing. Explore the very unique combination of old, classic monuments and contemporary beautiful buildings. Delhi holds an entire, timeless collection of historical treasure to see and praise. The majestic monuments and humongous forts present the most spectacular designs of diffident types and times of architecture.
Day 03: Delhi - Shimla
Have a please morning drive to Shimla and spend the rest of your day leisurely by exploring the scenic beauty of the city or collecting souvenirs for your family and friends. Overnight at hotel.
Day 04: Shimla - Sarahan
In the morning, drive to Sarahan via Narkanda and Rampur. Visit Bhimakali temple to feel the religious essence of the city and finally end your day with an enticing experience of spending your night in tented camp.
Day 05: Sarahan - Kafnoo (2427 M)
It is time to bid bye to Saharan and move towards Kafnoo. Kafnoo is a small village Kafnoo, where you may have to offer your permit details get it stamped at Police check post. Spend your night in a tented camp.
Day 06: Kafnoo - Upper Mulling (3470 M.) - (Trek)
In your journey of Himalayas trekking, Upper Mulling is the next place where you will finally get a chance to trek for long 5 hours. It may be little difficult but will surely serve you a memorable experience for lifetime. Night can be spent at Upper Mulling in tented camp.
Day 07: Upper Mulling - Kara (Trek)
From upper Mulling, you get to enjoy an enthralling experience of 4 hours of trekking to make it to Kara. Follow the simple route of left bank of the Bawa River, walk through the stirring forest track and then cross open meadows. Fix your camp at the far end of the Meadows, by the river. It is, indeed an ideal location for Camping purpose.
Day 08: Kara - Base Bhaba Pass (4290 M) - (Trek)
Add another day of trekking into your journey and begin to move to Bawa Pass base. This can be your one of the hardest yet exciting days of trekking since it demands good 6 to 7 hours at a stretch. It involves a n exhilarating steep climb of 3 to 4 hours trail by the side of the right fork of the Bawa Stream.
Day 09: Bhaba Pass (5540 M) - Bara Baldar. (Trek)
While your journey from Bhaba Pass to Bara Baldar, you would encounter a steep descent for the initial about 3 kms, which is further followed by a 5 hours walk by the side of a slender and clear trail to the First Camp in The Pin Valley. Spend your night in tented camp.
Day 10: Bara Baldar - Mud (3810 M). (Trek)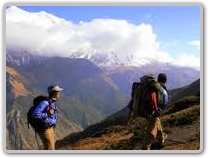 Your 10th day of Himalayan trekking will take you to the land of Mud,. After some heavy body exercising, this place will offer you some relief of an easy trek of about 5 hours. Here also, you get to experience a night in the serenity of a tented camp.
Day 11: Mud - Sangam (3650 M). - (Trek)
After your breakfast, starts your day by trekking your way to Sangam . Samgam offers you a trek stretch of 17 Kms, which you may cross in about 4 to 5 hours. It is a beautiful village located at the meeting point of Pin and Parhio River. Plan your dinner and overnight in camp.
Day 12: Sangam
After continuous days of trekking, this is your time to have some comfortable fun and pleasure. We keep your morning free so that you get to enjoy the charming and picturesque beauty of Sangam. Visit the mystical Gungri Monastery in the afternoon and spend your night in tented camp.
Day 13: Sangam - Kaza (3600 M)
Post your breakfast, drive stratight away to Kaza via Tabo and Dankar Gompa. Kaza has comfortable accommodation of guest house for your night.
Day 14: Kaza
Wake up late in the morning, take a lavish bath and then get packed for an uphill drive of 11kms to Ki and further 7 Kms to Kiber. Visit Ki monasteries and Kibber villag and finally come back for your good night sleep to your Kaza Guest house.
Day 15: Kaza - Keylong (Drive 175 kms - 8 hrs approx)
This day is reserved for your visit to Keylong via Kunzum Pass , located at the minimal distance of 4551 M. Overnight in Camp.
Day 16: Keylong - Udeypur - Keylong
Keylong is the District headquarters of Lahaul & Spiti. Give your entire day to explore the beauty of Trilokpur and Udeypur. And finally, once your muscles start feeling stress, come back to to keylong in the evening for dinner and overnight stay in hotel-guest house.
Day 17: Keylong - Manali (drive 115 kms - 6 hrs approx)
Start your day by visiting Khardong gompa and then later in the afternoon, move to Manali which is approximately located at the distance of 7 hours. . Dinner and Overnight in Hotel.
Day 18: Manali
Manali is city to explore. So keep your entire free for sightseeing and shopping. Buy stuff for your family and friends from the local markets and finally come back to your hotel to have a comfortable sleep.
Day 19: Manali - Nalagarh (261 Kms - 7 - 8 Hrs Approx)
Post your breakfast, drive straight away to Nalagarh with sumptuous lunch packed with your luggage and have a majestic night spent at Nalagarh fort.
Day 20: Nalagarh - Delhi (280 kms - 5 hrs)
After an unforgettable experience of trekking in Himalayas, this is the day to land back in Delhi. Indulge in the aromatic peace of spa or go out for shopping to collect souvenirs for your loved ones, waiting for you back home. In the late evening, you will be dropped at the International airport to connect get back home.
* The above tours / itineraries / travel plans can be rearranged / tailormade / customised as desired by our Guests. Feel free to ask for references from our satisfied customers across the globe who have utilised our services in the Indian subcontinent.