18 Nights / 19 Days
Delhi - Varanasi - Khajuraho - Orchha - Agra - Jaipur - Pushkar - Udaipur - Ranakpur - Jodhpur - Jaisalmer - Bikaner - Mandawa - Delhi
Day 01: Arrive Delhi
Assistance on arrival at Delhi International airport, on arrival you will be met by our representative and transferred to hotel, relax and overnight at hotel.
Day 02: Delhi

Morning take a sightseeing tour of Old & New Delhi. Old Delhi: The important places in Old Delhi include the majestic Red Fort, the historical Chandni Chowk, Jama Masjid and if time permits you can visit Raj Ghat the Memoir of Mahatma Gandhi. Afternoon visit New Delhi visit the Rashtrapati Bhawan, the one-time imperial residence of the British viceroys; the India Gate, a memorial raised in honour of the Indian soldiers martyred during the Afghan war; the Laxmi Narayan Temple, built by the Birlas, one of India's leading industrial families; Qutab Minar, built by Qutub-ud-din Aibek of the Slave Dynasty; and the lotus-shaped Bahai Temple.
Day 03: Delhi - Varanasi (By air at 1040 / arr at 1150 hrs)
After breakfast checkout & transfer to airport to board the flight for Varanasi at 1040 hrs, assistance on arrival in Varanasi at 1150 hrs, transfer to hotel, after freshen up take an excursion tour to Sarnath – 10 kms visit the deer park and Bodhi Tree where Lord Buddha perched his First Sermon. Drive back to Varanasi, evening take a boat ride on the River Ganges and see the various Ghats with people ritually cleansing their sins. While on the boat you will also see the cremation ceremonies of dead bodies as per Hindi Rituals. Later drive back to hotel for overnight.
Day 04: Varanasi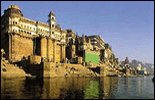 Early morning take boat ride again on the Ganges at the time of sunrise & see devotees offerring prayers & water to Sun God, After breakfast proceed on a tour of the temples of Varanasi visiting the Golden Temple dedicated to lord Shiva, the Durga temple dedicated to goddess Durga. Interestingly the Durga Temple is also known as the Monkey Temple due to the large number of monkeys found in the Temple premises. Evening free for individual activities, overnight at the hotel.
Day 05: Varanasi - Khajuraho (By air at 1220 hrs / arr at 1300 hrs)
After breakfast checkout & transfer to airport to board the flight for Khajuraho, assistance on arrival in Khajuraho at 1300 hrs, transfer to hotel. After freshen up take sightseeing tour of Khajuraho visit Eastern group of Temples and visit the Jain temples of Parsvanath, Adinath, and Shanti Nath. Also visit the temples of Vamana and Brahma/Hanuman both dedicated to lord Vishnu. Later visit Western group of Temples consisting of the massive Lakshman Temple dedicated to lord Vishnu, the Lakshmi and Varaha temples dedicated to Vishnu's consort Lakshman, the Kandariya Mahadev temple dedicated to Lord Shiva and the Chausath Yogini temple dedicated to goddess Kali. Also visit Archaeological museum with its collection of stone sculptures of the Chandela dynasty. overnight in Khajuraho.
Day 06: Khajuraho - Orchha - Jhansi (178 kms – 5 hours) - Agra (By Super fast train at 1745 hrs)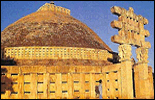 After breakfast checkout & drive to Jhansi to board the train for Agra, enroute visiting Orchha: Orchha once the capital of the Bundelas, Orchha is now just a village set amidst a complex of well preserved temples and palaces. It was built by Bir Singh Deo in 1531. Take a sightseeing tour of Orchha visiting Jehangir Mahal - the largest of the palaces , the Raj Mahal with its murals and the Raj Praveen Mahal built near a garden, You would also visit Dinman Hardaul`s palace with its interesting story. The temples of Orchha are highly preserved. The two main temples are the Ram Raja Temple and the Chaturbhuj temple. Later proceed to Jhansi railway station to board the fully air-conditioned Shatabdi Express Train for Agra at 1745 hrs, assistance on arrival in Agra at 2000 hrs, transfer to hotel, evening free to relax, overnight in Agra.
Day 07: Agra
Morning, proceed to visit the World famous Taj Mahal, whose eternal beauty will astonish and mesmerize the visitors. It is also known as the "Crown of Palaces" built by the Emperor Shah Jahan to immortalize the memory of his beloved wife Mumtaz Mahal. Thereafter continue to discover the strong & magnificent Red Fort - built by the three generations of Mughal Emperors between 1565 and 1573, whose military power cannot be questioned. It was the residence of the Mughal Emperors. Each one left there its print, Red sandstone of Akbar and Jehangir, White marble of Shah Jahan. This fort rises on the edges of Yamuna River; surrounded by a wall from 20 to 33 meters top and 2500 m perimeter. Evening free to visit Inlay Handicraft Market of Agra, overnight at the hotel.
Day 08: Agra - Fatehpur - Sikhri - Jaipur (230 kms - 5 hours) Capital of Rajasthan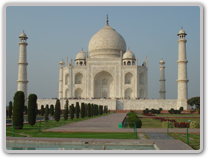 Morning leave for Jaipur the capital of Rajasthan also known as pink city, enroute visiting Fatehpur Sikri - the extraordinary city built by Akbar the Great, deserted 14 years later, but which during its brief span, the city had more significant than London in both grandeur and population visit Panch Mahal, Buland Darwaza & Shrine of Shaikh Salim Chisti. Continue to Jaipur – the capital city of Rajasthan arrive and check in to hotel. Afternoon is kept free for relaxing. Later in the evening visit Sisodia Gardens, Temple of Galta which is also known as Valley of Monkeys, and Birla Temple of White Marble and at the time of dinner visit Chokhi Dhani - an ethnic resort serving Rajasthani & Continental cuisine with live music and puppet shows in an ambiance of an ethnic village. Return to the hotel for overnight.
Day 09: Jaipur
Morning visit the Amber Fort – built in the time of Mughals. The area used to be always ready for the war. Amber was residence of the Maharajas. By seeing the majestic ramparts of the Fort, which surround the palace, you will be able to imagine the power of the character. Rise towards the ramparts on the elephant's back. Visit the Palace with its crimped rooms of mirrors and the old harem, true labyrinth. The magnificent public and private rooms show evidence of the splendor of the rulers of 16th & 17th century. Possibility of attending Puja at the Kali temple. Puja is the time of the prayers according to Hindu rites'. One can enter in the temple only naked feet and without leather articles on oneself. Thereafter, return to Jaipur. Afternoon proceed for the tour of Pink City - visiting the imposing City Palace now a museum - the principal residence of the former ruling family, Jantar Mantar - the ancient Observatory, Hawa Mahal - the exotic Palace of the Winds & the picturesque bazaars of the walled city. Evening free to visit the famous handicrafts souvenir & jewelry market of Jaipur. Overnight at hotel.
Day 10: Jaipur - Pushkar – 131 kms (3 hrs)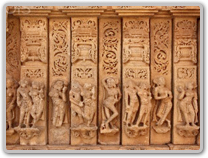 Drive to Pushkar, on arrival transfer to hotel, later visit Pushkar Lake which is believed by the Hindus to be as old as creation & has been a place of pilgrimage through the centuries. There are 52 bathing Ghats built around the lake. Also visit the only temple of Lord Brahma. Pushkar draws thousands of tourist every year in the month of November to witness the Pushkar Fair. One can also visit Ajmer to see Taragarh Fort, Adhai Din ka Jhopda & Shrine of Khwaja Moinuddin Chisti, evening free to relax, overnight in Pushkar.
Day 11: Pushkar - Chittaurgarh – Udaipur – 275 kms (5 hrs)
Early morning visit the Ghats of Pushkar to see the devotees offering prayer to Sun God & taking dip in the holy waters of Pushkar. After breakfast checkout and drive to Udaipur enroute sightseeing of Chittaurgarh Fort spreaded over 13 square kms in the shape of a Ship, you can explore this fort by your own car you will be traveling in, visit The Museum, Padmini Palace, Man palace and Towers of Victory & Peace. This fort is supposed to be the finest forts of Asia. Proceed to Udaipur on arrival transfer to hotel, evening free to relax or stroll at tiny lanes Udaipur near the Ghats of Lake Pichola. Overnight in Udaipur.
Day 12: Udaipur
Morning take a sightseeing tour of Udaipur visiting the City Palace Complex comprising of Durbar hall, Crystal Gallery, Jagdish Temple and the Museum, Sajjangarh Fort, Sahelion ki Baari, Lok Kala Mandal and Shilp Gram. Evening take an excursion tour to Nagda Ruins on the bank of lake bagel, visit Sas Bahu Temple, Eklingji Temple & several other ruins over here. Later drive back to Udaipur, evening free to relax, overnight at hotel in Udaipur.
Day 13: Udaipur – Kumbhalgarh - Ranakpur - Jodhpur – 276 kms (5 hrs)
Morning checkout and drive to Jodhpur, enroute sightseeing of Kumbhalgarh Fort built by Rana Kumbha known for its 36 kms long wall surrounding the fort with 360 temples inbuilt in the wall. Later proceed to Ranakpur to see the 12th Century carved Jain Temples which stands on 1444 marble pillars each carved differently from others, one can have lunch at Maharani Bagh Orchard Retreat in Ranakpur. Proceed to Jodhpur on arrival transfer to hotel. Evening take an excursion tour to Balsamand Lake and Palace. One can enjoy dinner at "On The Rocks Restaurant " at Ajit Bhawan Palace hotel itself. Overnight in Jodhpur.
Day 14: Jodhpur - Jaisalmer (285 kms - 5 to 6 hrs)
After breakfast take a sightseeing tour of Jodhpur visiting Mehrangarh Fort, Jaswant Thada, Umaid Bhawan Palace Museum and Mandore Gardens to see the royal cenotaphs.
Afternoon checkout & drive to Jaisalmer enroute visiting Fort Pokhran, on arrival transfer to hotel, evening free to relax, overnight in Jaisalmer.
Day 15: Jaisalmer
Morning take a sightseeing tour of Jaisalmer covering Jaisalmer Fort – built on the highest point of the Tricuta hill, consisting of 99 bastions. Outstanding features are Megh Durbar & various temples, Salim Singh-Ki-Haveli & Patwon–Ki-Haveli – some of the beautiful mansions with stone carving and latticework of breath taking intricacy. Rest of the day free to relax, Early evening drive to Sam Sand Dunes – 45 kms enroute visit the ancient Temple of Lodurwa, Amar Sagar and Mool Sagar Lakes. Arrive Sam Sand Dunes and transfer on Camels and enjoy camel rides on the dunes till the sunset. Drive back to Jaisalmer for overnight.
Day 16: Jaisalmer – Bikaner - 333 kms (6 hrs)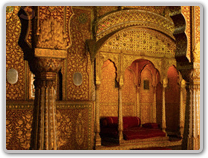 Morning checkout & drive to Bikaner, on arrival transfer to hotel. Day free to relax for some time, evening visit Camel breeding farm, here one can taste Camel Milk if wish to. Relax & overnight in Bikaner.
Day 17: Bikaner
After breakfast take a sightseeing tour of Bikaner visiting Junagarh Fort, Rampuria Haveli, Bhanwar Vilas Palace and in the afternoon take an excursion tour to Deshnok temple on Nagaur road, this temple is known as Temple of Rats as rats are held sacred over here, you will see the rats in good numbers roaming freely in the temple. It is believed that spotting a white rat at this temple is very lucky and in case if a rat is killed by stamping on it than one has to replace the rat by making a rat replica in Gold or Silver. Drive back to Bikaner for overnight.
Day 18: Bikaner – Mandawa – 175 kms (4 hrs)
Morning checkout and drive to the frescos town on Mandawa, traditional welcome on arrival transfer to Hotel. Rest of the day visit compact little town of Shekhavati region comprising of Forts and Havelis of beautiful frescoes. While touring this town a painted arched gateway adorned with Lord Krishna and his cows leads to the bazaar. It's Havelis still bear witness to the rich & prosperous Marwari era of the 19th century. Worth visiting are the Aath Haveli complexes, Anandilal Poddar Haveli, Bansidhar Bhagat Haveli & Chokhani Haveli. Evening enjoy folk dance and music. Overnight at hotel.
Day 19: Mandawa – Delhi – 275 kms (5 hrs) - Back home.
Morning day free at leisure, afternoon checkout & drive to Delhi, on arrival transfer to International airport to board the flight back home with beautiful memories of North India Tour.
◆ Number of days for touring in India.
◆ Number of people travelling.