11 Nights / 12 Days
Chennai – Kanchipuram – Mahabalipuram - Tanjore – Trichy – Madurai – Periyar – Kumarakom – Alleppey – Kovalam – Trivandrum - Chennai
Day 01: Home – Chennai (Madras) - Start of South India Tours
Assistance on arrival at Chennai International airport by our representative, transfer to hotel. After freshen up take a sightseeing tour of Chennai including Marina Beach, the second longest beach in the world. The St. George Fort, built in 1653, is currently used as the state government's secretariat. Santhome Cathedral was built around 14th/15th century and is another colonial structure worth visiting. Dedicated to Lord Shiva, the kapaleeswarar Temple is the oldest temple in Chennai. Another important temple in the city dedicated to Lord Krishna is Parthasarthy Temple. The Snake Park has a large collection of snakes and many other reptiles. Evening free for individual activities, overnight at the hotel. overnight at the hotel.
Day 02: Chennai – Kanchipuram – Mahabalipuram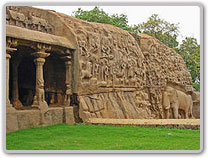 Morning morning checkout & drive to Mahabalipuram enroute visit Kanchipuram – this is one of India's seven sacred cities and one of its loveliest temple towns also known for its handloom silks. On arrival in Mahabalipuram transfer to beach resort. After freshen up visit Kailasnathar, Vaikuntaperumal, Ekambareshwara, Kamakshiamma and Sakiswarar Temples. Later in the day visit Mahabalipuram known for its Pallava Art and its beautiful long beach, visit Cave Temples, Rathas Arjuna's Penace and Shore Temples, after sun set drive back to the hotel for overnight.
Day 03: Mahabalipuram – Chidambaram - Tanjore (150 – Kms – 3 hours)
Morning checkout and drive to Tanjore, enroute visit Chidambaram which is one of the foremost Saivite shrines; the very name Kovil refers to Chidambaram, where Natarajan is enshrined in the Chit Sabha or the Hall of Consciousness, in the Ananda Tandavam (Dance of Bliss) pose. Chidambaram is one of the Panchabhoota Stalams signifying the 5 elements of wind (Kalahasti), water (Tiruvanaikka), fire (Tiruvannamalai), earth (Kanchipuram) and space (Chidambaram). The Moovar (Sambandar, Appar and Sundarar) as well as Manikkavacakar have sung praises of Chidambaram. Several literary works praise the glory of Chidambaram. Chidambaram is one of the 5 dance Halls of Shiva (Kanakasabhai). The five dance halls are Chithambram, Madurai, Tiruvalankadu, Tirunelveli and Kutralam.
Later continue driving to Tanjore, on arrival transfer to hotel. Afternoon, visit Tanjore (Thanjavur) which was the ancient capital of Chola kings. Visit the Brihadeshwara temple which was built by Raja and is termed as the crowning glory of Chola temple architecture. This temple is one of the monuments in India with World Heritage listing. Also visit the Thanjavur Palace which was constructed in 1550 and has huge corridors, spacious halls, observation and arsenal towers.
Day 04: Tanjore – Trichy (50 kms – 1 hour)
Morning checkout and drive to Trichy, on arrival transfer to hotel. Later in the afternoon visit Trichy the most famous landmark of this bustling town - the Rock Fort Temple, a spectacular monument perched on a massive rocky outcrop which rises abruptly from the plain to tower over the old city. It is reached by a flight of steep steps cut into the rock and from its summit you get a fantastic view of the town plus its other main landmark, the Sri Ranganathanswami Temple. This temple is one of the largest and most interesting temple complexes in India, built on an island in the middle of the Cauvery River and covering a staggering 2.5 sq km and Jambukeshwara Temples. Evening drive back to hotel or take a walk through old city particularly big bazar street and China bazar. Overnight in Trichy.
Day 05: Trichy - Madurai (165 kms – 3 hrs)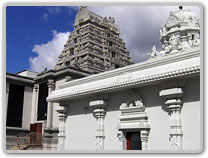 Morning checkout and drive to Madurai, on arrival transfer to hotel. Afternoon sightseeing tour of Madurai visiting Meenakshi Temple, Tirumalai Nayak Palace and Vandiyur Mariamman Teepakulam where annual float festival takes place. Overnight at hotel in Madurai.
Day 06: Madurai – Periyar (150 kms- 3 hrs)
Morning checkout and drive to Periyar, on arrival transfer to hotel. Take a boat ride in Periyar lake at 1500 hrs to see the wild animals on the bank of the lake especially elephants who comes to bathe with their siblings. Evening visit Spice Plantations & Market, overnight in Periyar.
Day 07: Periyar – Kumarakom (130 kms - 3 hours)
Early morning take a boat ride again in the Periyar Lake, later checkout & drive to Kumarakom – back water country, on arrival transfer to resort overlooking the Vembanad Lake. Enjoy the ambiance of Kumarakom, visit Kumarakom bird sanctuary which houses different species of migratory birds. Early evening take a rice boat cruise in the canals of Kumarakom. Overnight in Kumarakom.
Day 08: Kumarakom – Alleppey (By Houseboats)
Morning board the houseboat cruise for Alleppey for an overnight journey, enjoy the cruise in Vembanad Lake. The journey will take us through the tropical countryside enchanting backwaters of Alleppey to Palm fringed narrow canals winding through the vast expanse of paddy fields and the neat tiny hamlets, typical villages and regattas (snake boats) for which Kerala is very famous. The Golden Star Deluxe houseboats have Sitting Area, Dinning Area, Sun Deck to enjoy sunset and fishing, Bed room with double & twin bed with attached English toilets and running hot & cold water. Breakfast, Lunch & dinner will be served on board the houseboats, overnight cruising in the Vembanad Lake.
Day 09: Alleppey – Kovalam (175 kms – 4 hours)
Breakfast will be served on board, arrive Alleppey Jetty at 0900 hrs, assistance on arrival transfer drive to Kovalam, on arrival transfer to beach resorts, rest of the day free to relax at the beach resort.
Day 10: Kovalam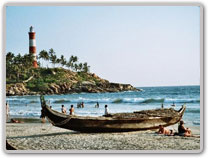 Morning take a sightseeing tour of Trivandrum City in the morning covering the Padmanabhaswamy Temple & Palace, Chaitra Art Gallery and Napier Museum. After lunch take an excursion tour to Cape Camorin (Kanya Kumari) – 84 kms, Kanyakumari the south-most tip of India where the three seas Indian Ocean, Arabian Sea and Bay of Bengal meet. Visit Vivekananda Rock and Kumari Amman Temple, enjoy Sunset over the Indian Ocean and drive back to Kovolam. Enjoy Kathakali dance performance before you dine. Overnight at the beach resort.
Day 11: Kovalam
Day free to relax at the beach resorts one can take ayurvedic massages available at the resort, overnight in Kovalam.
Day 12: Kovalam - Chennai (By air at 1330 hrs / arr at 1430 hrs) - Back home.
Morning free to laze at the beach resort, afternoon transfer to Trivandrum airport to board the flight for Chennai at 1330 hrs, assistance on arrival in Chennai at 1430 hrs, time free for shopping or individual activities in Chennai, later transfer to International airport to board the flight back home.
◆ Number of days for touring in India.
◆ Number of people travelling.